mySecondTeacher offers a comprehensive array of learning packages for NEB grade 12; Learning packages that are filled with interactive videos to hone the students' skills and prepare them for a future of unlimited possibilities. Videos are available for all chapters of every subject and are broken down into multiple episodes to cover everything in the curriculum. We offer a variety of packages that allow you to choose from a wide range of options, whether you prefer to explore just your favorite subjects or the ones you need to focus on, or everything under the sun!
Now , Let's find out how you can buy a grade 12 package on mySecondTeacher.
Step 1: Register and Login
To get started with purchasing your grade 12 package on mySecondTeacher, first, register yourself as a mySecondTeacher user with your email id. Login to your mySecondTeacher Nepal account and gain access to the platform. In the home page, find and locate the "Subject" option in the dashboard. After clicking on the option you will see a list of subjects from your syllabus.
Step 2: Visit "Our Store"
On the right-hand side of the page, you'll find a tab labeled "Our Store." Click on it to access a list of available packages for grade 12 subjects.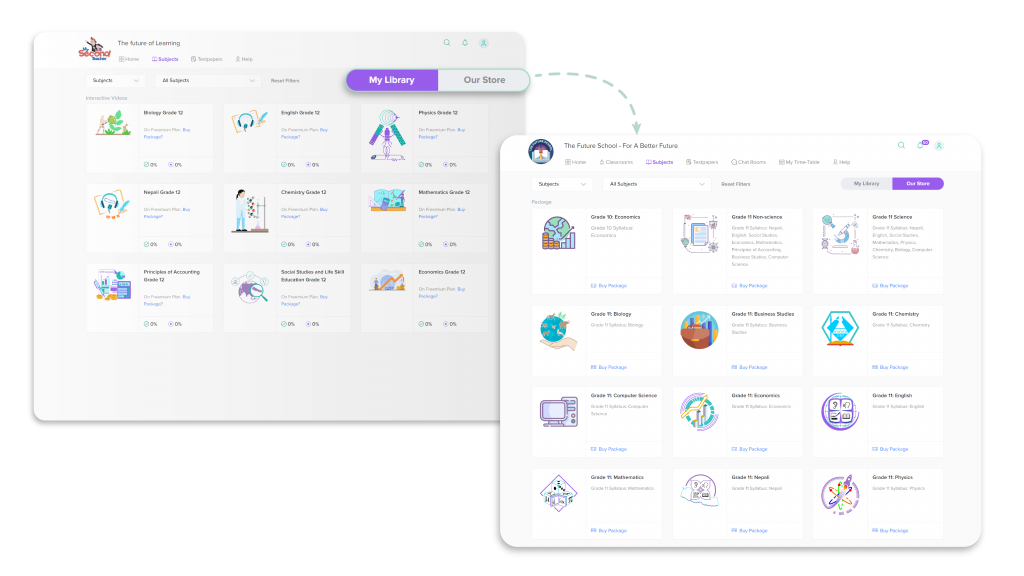 Now, scroll to find the subject package you want to buy. Here, you will see a "Buy Package" option for each respective subject and subject bundles for science and non-science subjects from the CDC curriculum for grade 12.
Now, we all have subjects of our liking and those that are a bit more challenging for us to understand. Our video lessons are thoughtfully designed, combining interactive learning, engaging visuals, and clear instructions to empower students to comprehend the study material effectively.
Let's take a quick look in this short video clip.
Step 3: Pick a Package
Now explore the available packages to choose the subject or package that best fits your educational needs. Click on the "Buy Package" option that is displayed beneath the subject packages. Once you've made your selection, you will be directed to the package information page.
At the top of this page, you'll find essential information about the package including the course duration, package contents, and bonuses like test-papers (if available). 
For bundle packages, you have the flexibility to choose a duration of 1 month, 3 months, 6 months or 12 months. In contrast, for a single subject , the package comes with a fixed 12-month duration. The pricing details are available at the bottom of the page.
To access mySecond Teacher app from your smartphone, follow these simple steps ;
Download "mySecondTeacher Nepal" app from Playstore
Open the app
Locate the 'subject' option in the menu list at the bottom and further click on the " MST store" option
Further, scroll and select the subject package you want to purchase
Click on the "View Detail" option displayed on the bottom of the page. Now you will be redirected to your browser page. From here , follow the remaining steps to successfully buy a subject package.
Step 4: Purchase Package
Proceed to the next step by clicking on the "Buy Package" option once again. You can pay using either Fonepay, Esewa or Khalti. Now, you can choose your preferred payment method and then select "Continue to Payment."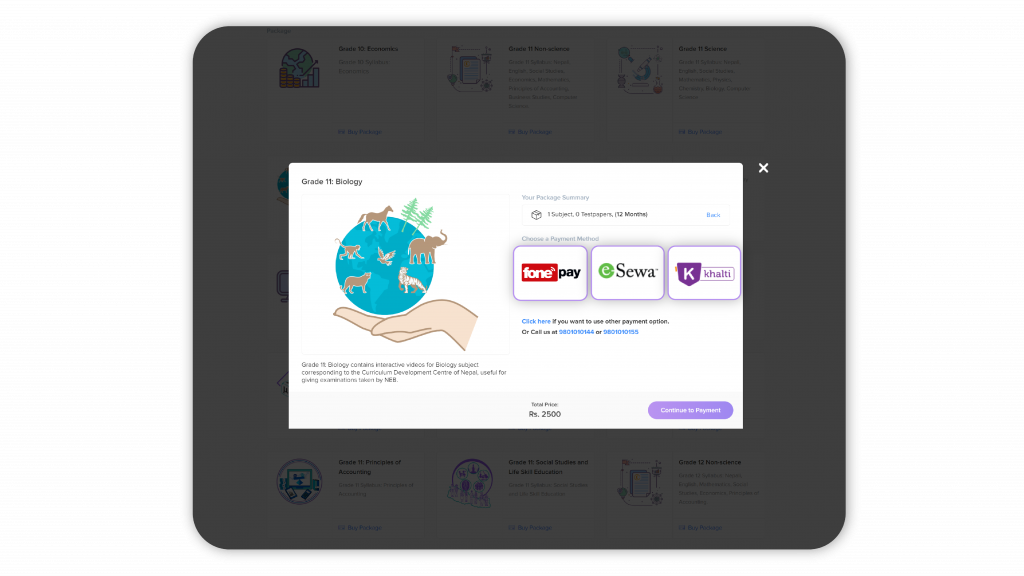 To successfully complete the purchase, kindly input your personal information and password to finish the transaction. Now you can access the contents of the chosen subject.
Step 5: Enjoy your lessons!
The video lessons provided by mySecondTeacher will bring you one step closer to understanding the subject matter. The quizzes and interactive content are designed to help you grasp challenging subject matters more easily. These subject packages help in shaping your educational experience by introducing a new way of learning.
The resources provided by mySecondTeacher simplify the learning process, make you curious about subject matters and constantly challenge you to do better. mySecondTeacher makes getting A+ in every exam an achievable goal.